---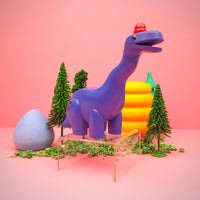 The surprise online release of Brack (Party Purple). Limit one per order. Multiple orders will be refunded.
US domestic shipping is $10. International shipping is $19.
---------
This is Brack (who happens to be a Brachiosaurus). This second colorway features a deep purple base and red pop for the hat.
Only 30 made. This is a resin figure/art toy. This is not a suitable toy for children. It does not come with an acrylic stand or wooden trees.
Dimensions: Roughly 6.5" wide by 4.5" tall
This figure was designed by me and produced by Props & Pop